Add the following Extras to your specials (or other) package for a low one time installation fee.
(except where additional storage fees
are noted)
---
Counters
$7.50
CGI Clock
$7.50
Specify time zone
when ordering
CGI Date
$7.50
Specify time zone
when ordering

---
Fill-In Forms

---
Alternate Versions
Frames
| | |
| --- | --- |
| Example | |
| | Frames sites are generally developed to make more complex sites easier to navigate. You may request a quote to develop a frames site or to convert an existing site to the frames format. |
Text Only
| | |
| --- | --- |
| Example | |
| | Text Only sites are designed to provide content delivery and facility of navigation to visitors who have non graphical browsers. These sites may also be used by those who have slow internet connections or those in a hurry. Adding a Text Only version to a GAIS designed site would involve an increase of one third above the original cost. Quotes may be obtained to render an existing site in a text only format. |
Unenhanced Pages
By default all GAIS designed websites are enhanced sites, using the newest features that the most advanced browsers can deliver. However we can, upon request, design unenhanced graphic sites either as the primary version or as an alternate version to an enhanced site. (GAIS tests all of our designs by viewing them with several browsers including the most recent versions of Netscape(tm), Internet Explorer(tm), Mosaic(tm), and HotJava(tm).
---
Additional Links

Links (either external or internal) can be added to any page for $1 each.
---
Additional Images

Images can be added to any page for $5 each.
(A $3 fee applies to any images that must be scanned.)

---
Image Maps (client side)
$20 and up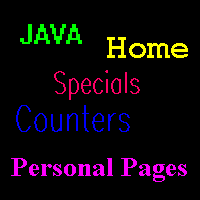 Image Maps like the "simple" example on the left are graphic maps that allow the user to navigate by clicking somewhere on the image. A click, depending upon its location, will take a user somewhere else on the page , the site, or the WWW. Try the example on the left and then use your browsers back button if you wish to return here.
Image maps are often used to make it easier and more enjoyable to navigate a site. Prices start at $20 and increase with the complexity of the map
---
Search Engines
| | |
| --- | --- |
| Add a Search Form | Additional Registration |
| $5 each | $5 each |
| A search form like the example below will appear on your page, and visitors (including you!) can use it to search the Web. | Further promote your site by adding additional search engine registrations to the number included in your site package. |
---

---
Copyright &copy 1996 GAIS
All rights reserved.